Cloud Computing is a "newsworthy" term in the IT industry in recent times and it is here to stay! Cloud Computing is not a technology, or even a set...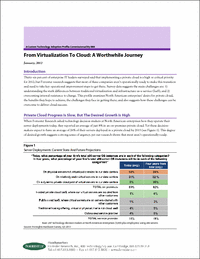 Forrester suggests Private Cloud progress is slow, but the desired growth is high. Read this white paper to identify ways your organization can become more operationally ready to...
Cloud isn't a technology hullabaloo but ultimately a powerful business disruption, a real game changer. The central theme of a Public Cloud is provisioning and management of IT resources...
1.1          What is Cloud Computing? Why is it relevant for Business? Cloud separates application and information resources from the underlying infrastructure, and the mechanisms used to deliver them. Cloud...
Please Click on the below link to download Presentation File (PPT) on Cloud Computing Overview Cloud Computing Overview 0.1d...
Private Cloud introduces a new architecture that might make it challenging for developers to migrate their existing applications. It's certainly not "A wolf in sheep's clothing". The question is,...
Typical requirements, characteristics of Collaborators within enterprises Today's business realities force companies to radically change the way they operate on a global scale. Companies are expanding operations to many...
Overview enStratus is a cloud infrastructure management platform from enStratus Networks LLC that addresses the governance issues associated with deploying systems in public, private, and hybrid clouds. The enStratus...
Software licensing and pricing models are usually not considered as simple, native, or user-friendly. The value of the use of that software or platform can be estimated based upon...